Happy Monday, Friends! I hope you all have enjoyed the slight warmth lately, because today and yesterday it's been FREEZING (a.k.a. mid-fifties) here in Boston and I'm over it! I thought autumn and winter were over? In any case, the temperatures today are making me look forward to sharing today's post with you even more! Consider it a flashback to sunny days, clear blue skies, and a simple excuse to wear a crop top and bright colors!
For this portion of Jackie's Fashion + Style photo session, for her blog The Cubicle Collections, we paid a visit to the Boston Public Garden, and it was a lovely day for it, let me tell you! The slightest breeze and some warm sunshine really brought Jackie's outfit to life and made these colors pop!
Be sure to visit The Cubicle Collections to read about why Jackie wore these particular pieces together, and to find links to where you can get them for yourself. The top especially was a bit out of her comfort zone, so I'm very excited that she decided to face her fears and totally work this outfit! Case in point: The whole crop top trend was something she never quite got on board with (me either actually!), but the one she's wearing for this photo session is the perfect fit for her! Not short enough that there's any midriff action, but the layering at the bottom creates the illusion that it's shorter than it actually is. I would say it's perfect for anyone looking for an on-trend crop top that's both work and figure friendly!
Accessories in neutrals complete this look perfectly, and so does this graffiti wall we passed on our way to the Garden! Pink AND teal? Thanks for the perfect urban backdrop, Boston! Keep scrolling for beautiful views of the Boston Public Garden, and be sure to plan your own trip there soon. Sometimes when I want a spot to relax away from the city's hustle and bustle I think to myself "Oh, I've been to the Garden before. Been there, done that." But it's truly one of the best getaways within the city for when you need some R&R without planning a longer trip further away. I totally underestimate it sometimes. Boston, you sure do know how to sweep a girl off her feet!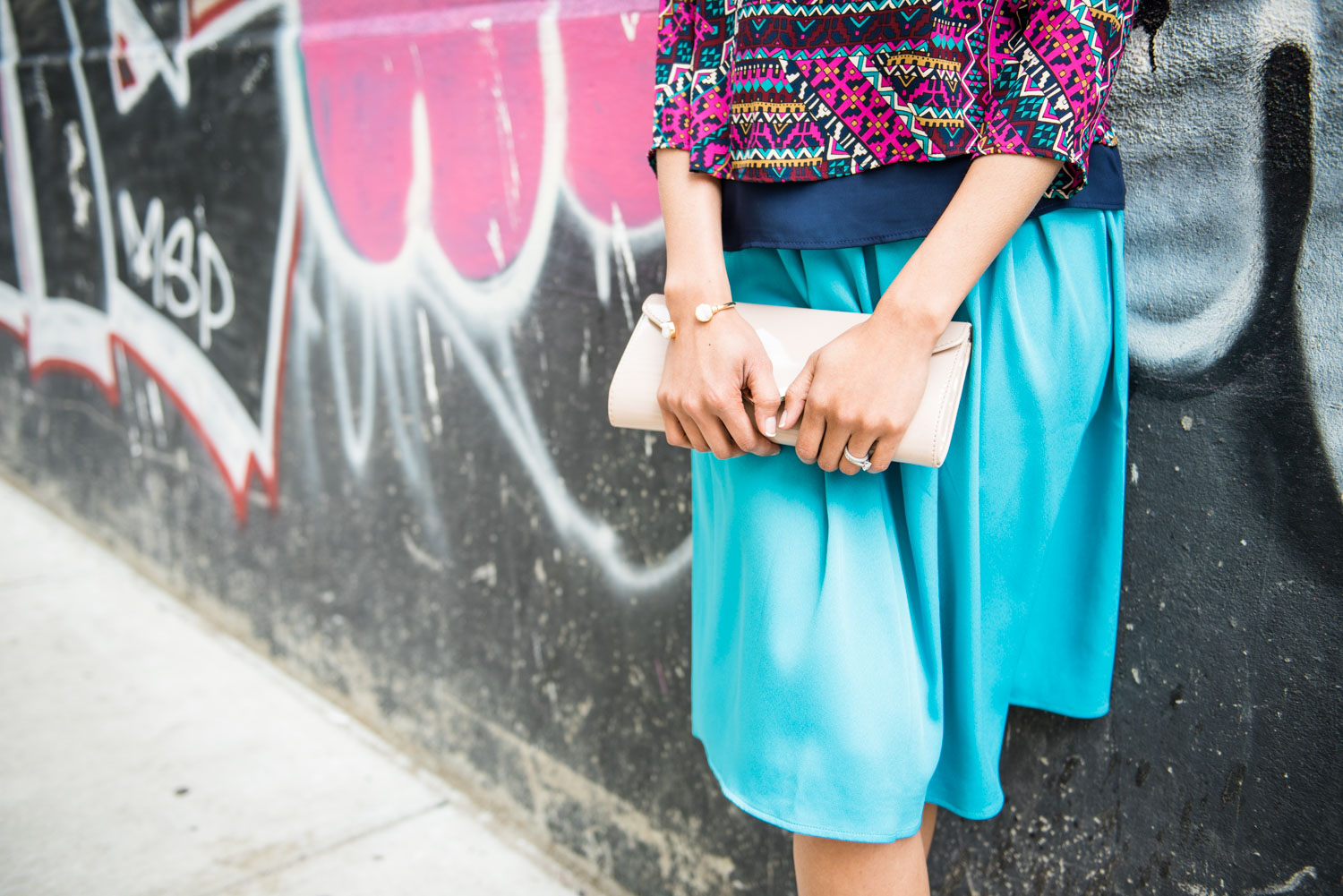 Follow along on Instagram for more exclusive photos from this session throughout the week!
What fashion trends have you thought about trying, but haven't? What's holding you back? Tell me in the comments!
Are you a fashion or lifestyle blogger in the Boston area looking for a new and fresh way to share your personal style with the world, fall in love with blogging all over again, and get a self-confidence boost for an added bonus?
Get in touch for your own Fashion + Style session with yours truly!