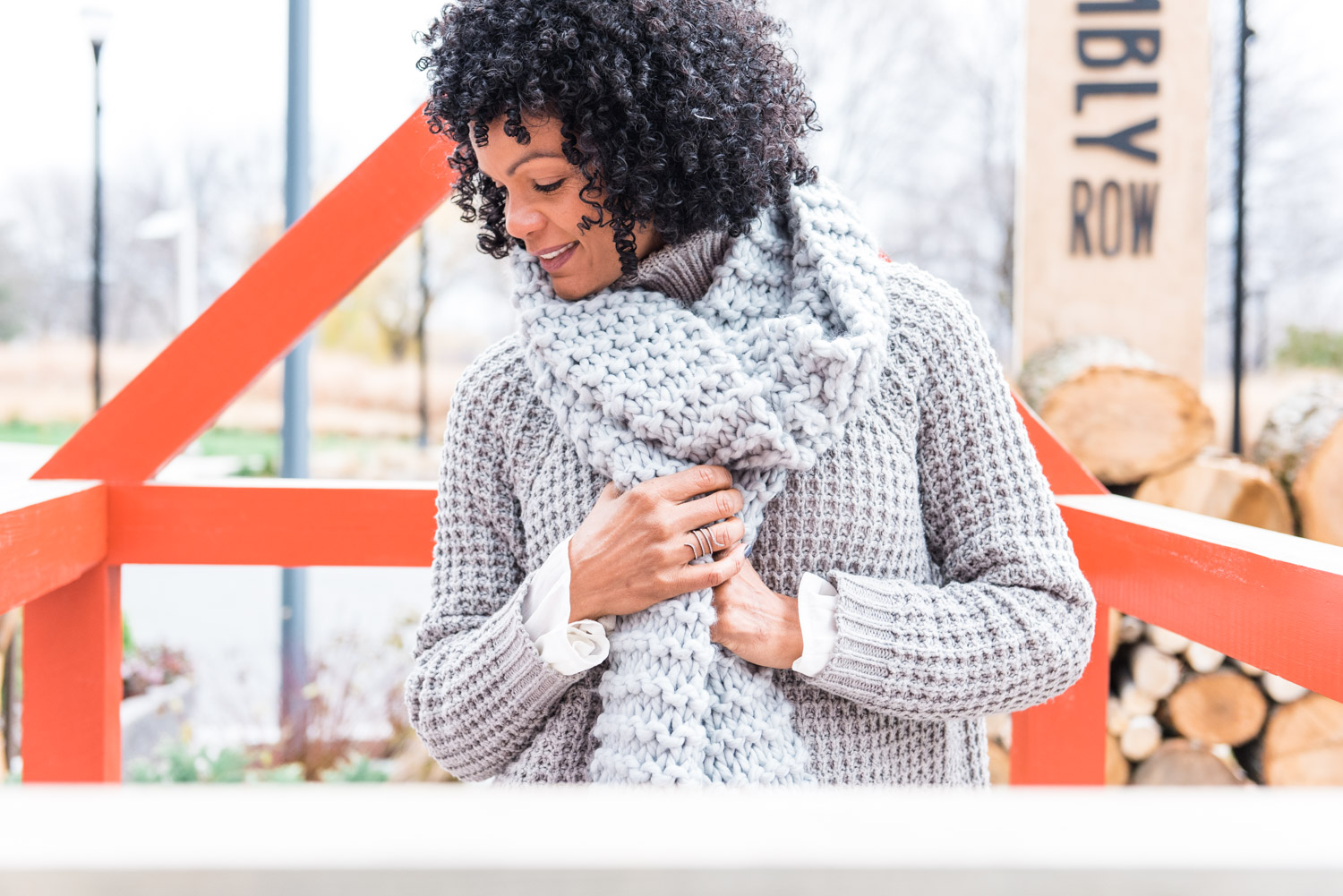 Passionate. Grounded. Creative. Generous. The first four words that come to mind when I think of Diane, the lovely blogger behind Fashion On The 4th Floor.
Usually when December comes around I'm thinking about portrait sessions a lot less, and my mind starts turning to warm mugs full of tea on my computer desk. After all, snow and freezing temperatures could be right around the corner! However, I'm glad this month has turned out to be so mild, because otherwise Diane and I wouldn't have already had THREE sessions together!
When I say it's been a blast running around with this lady, camera and fashionable accessories in tow, it's a total understatement! Diane is one of the most passionate people I've ever had the pleasure to meet and collaborate with. She pours herself into every single thing she does, including but not limited to, her work with her husband in their DJ company, volunteering to take care of foster dogs, and expressing herself through her personal style.
If you have looked around at other fashion bloggers and felt like you can't connect that well with their sweet and girly style, please go visit Fashion On The 4th Floor! Although the name is a reference to Diane starting her blogging journey later in life, age is truly irrelevant in this case. I would gladly throw any outfit on my body that Diane put together—she does bold, edgy, tomboyish and sophisticated all rolled into one SO well!
The very first outfit we shot together was gray on gray on gray. Fear not—monochrome styles are so underrated and unique! This one is so warm and comfy, with great use of texture and different color tones. Take a look at our first session together and be inspired in your winter style! Winter doesn't have to mean one-size-fits-all frumpy sweaters! If you love the look Diane put together, visit her blog to see these specific pieces and her suggestions for making this style your own. Keep scrolling to read what she had to say after our session together. Enjoy!
After our session together, here's what Diane had to say. This little testimonial from her made my morning!
I'm always nervous shooting with someone I don't know. I'm afraid they won't like me & we won't click. I think Lorna & I connected immediately & she believed in what I was doing & personal goals as a fashion blogger. She has a wonderful, warm disposition & makes you feel so welcome.
She was also very open to my creative ideas that I might come up with during the shoot. She wanted to make sure I was comfortable with the backdrop. She was positive & made me feel great about what I was doing in front of the camera. This was so important to me because in the past I've had photographers make me feel inadequate, thinking they were too good to shoot with me or I wasn't good enough for them to spend the time or energy to work with me.
She makes you feel so positive about yourself! She allows you to feel comfortable trying anything in front of the camera. She is always giving compliments, so you are reassured throughout the shoot. She gives good direction during the shoot as well. She is very knowledgeable with many unique, cool places to shoot/backgrounds in so many areas of Boston & surrounding area.
What do you think of this monochrome winter outfit? Would you ever wear this yourself? Why or why not?